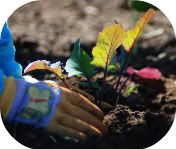 I'm so excited that gardening season is here. It's almost time to be eating fresh peas, cucumbers, tomatoes and such from the garden.
Our garden.
I'm giddy with excitement.
I started our seedlings inside this year. Not everything, but some of them.
So far we have peas, cucumbers, onions, tomatoes, and two types of squash growing.
They are desperate to get out in the warmth of the Atlanta sun and warm weather. See how they are stretching
to the window trying to make their escape?
Have you started your garden yet? Link up with Aliceson over at Feet off the Table and let's watch how each others gardens progress this year! Bring it!